WHAT IS HAPPENING AT LONDON ROAD?
It is a huge understatement to say that the INCORRECT map distributed by Bicester Town Council showing that London Road level crossing will close in 2019 has caused some concern in the town.  There has been uproar and outrage from many residents of Bicester and the villages, especially those who depend on the crossing as part of their daily routine.  The Bicester Advertiser even ran a front page story about the concern the map has caused.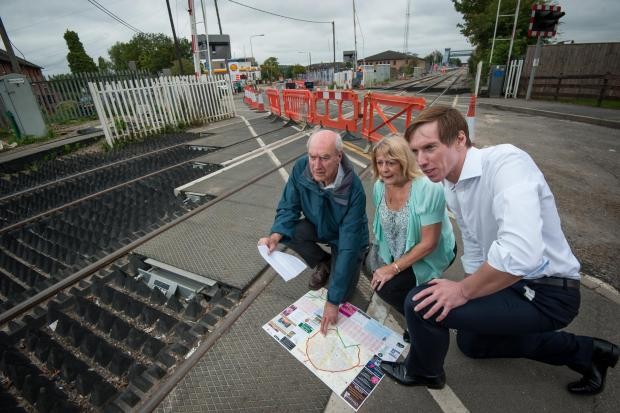 so what ACTUALLY HAPPENED?
Bicester Town Council's Chief Officer, Sue Mackrell contacted us very early on with a formal apology from the council and the map's publisher Codair.  You can find Codair's formal apology to the Council here.

We also know that the councillors were totally and completely unaware of the map's appearance as much as the rest of the population of the town.
Yet we are perplexed as to why Codair, who managed to completely miss out the Pioneer Square development and the changes to North Street were able to add in the new railway line's chord and seemingly from nowhere, arbitarily decide that London Road level crossing was to close from 2019.  No plausible explanation has emerged for this mistake.  We are suspicious that maybe Oxfordshire County Council are confidentially briefing interested parties that the crossing will close but we have zero evidence to back up this hypothesis.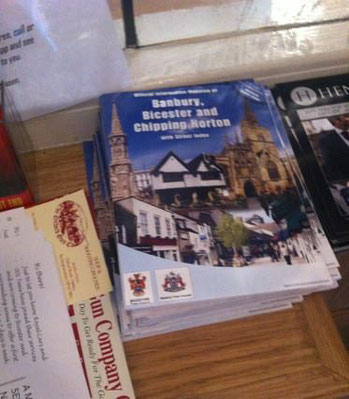 Bicester Town Council did promised to destroy all copies of the incorrect map at a Council Meeting on 8th September yet on 18th September we were still finding copies of the map freely available around town.  This example was in the Kings Arms, Bicester.  Please let us know if you find any further copies.

SO WHAT IS HAPPENING?
From a discussion with one of our Oxfordshire County Councillors Lawrie Stratford, we understand that Oxfordshire County Council (who have jurisdiction for highway issues) will be making some sort of announcement regarding the London Road crossing at the end of September.

However in speaking with Mr Ben Smith, Oxfordshire County Council Highways Department Officer for Cherwell and Bicester we were extremely disappointed.  We asked Mr Smith a number of questions about what will happen at the September meeting, what decisions will be made, what likely next steps will be taken.  We are VERY disappointed to report that he was unable to give us any confidence in the process they are managing to deliver what is a strategic link for the people of Bicester and beyond.

Such was our lack of confidence we have written to all of our councillors and our MP, Victoria Prentis who is also involved in the process as well as sending copies to the local media.  We will update you with their responses.

SO IS THE LEVEL CROSSING ACTUALLY CLOSING?
To be honest, we have no idea.  Officially, no but then again there is work going on secretly for alternative solutions, so maybe yes but that depends on someone (i.e. central government) providing the cash to build the alternative.  Could anyone design a worse mess?
SO WHAT HAS BICESTER TOWN COUNCIL BEEN DOING?
As we highlighted at the beginning of this article, the map has caused outrage across town and beyond.  People have been rightly upset and asking what is being done.  We regret to say that it appears to BicesterTAG that Bicester Town Council have been doing very little of practical value despite having had ample opportunity. 
The council claims that it is in as much a 'information vacuum' as the rest of us however given their contacts, networks and gravitas we find it very hard to appreciate.

Despite their own inaction, on several occasions recently the council and certain councillors have accused BicesterTAG of acting in a libelous manner in regard to our 6th September article.  So let us understand this correctly, their quality control processes are deficient, their record of achievement is lamentable but a group of residents who campaign for their own town are to blame? 
Well to be honest, we are proud that we helped bring this issue to a wider audience and we're very grateful to YOU for supporting us and Naomi and Michael at the Bicester Advertiser for running the story. 

SO WHAT HAVE OUR COUNCILLORS BEEN DOING?
On the 6th September when the discovery of the map first brought to our attention, we emailed all fifteen Bicester Town Councillors.  We asked them three basic questions;
What is your personal position on this councillor?
What are you doing about this as an individual?
Are you willing to work with us to campaign for a replacement?
We thought you would like to know the response we received to these, not unreasonable questions.  We recognise that they are not obliged to engage with us however we do represent the opinion of many people in Bicester and it would at least be nice to talk to us. 
Below we have summarised which councillors responsed to our questions.  For space constraints we cannot include each individual response, rather a summary of who gave a positive answer to our questions.  A 'Y' implies that the councillor did answer that question, an 'X' denotes that the question was unanswered.  Eight councillors failed to provide any response.  We know twelve of them definitely opened their emails.

If you are unsure which ward you live and who your councillor(s) is, click here.  We apologise for the poor quality of this image, it is taken directly from the Bicester Town Council website.