Bicester Gateway REFUSED permission by Cherwell District Council
Common sense prevailed at Cherwell District Council today when the Bicester Gateway development was refused by the Planning Committee on the grounds of size, scale and traffic congestion.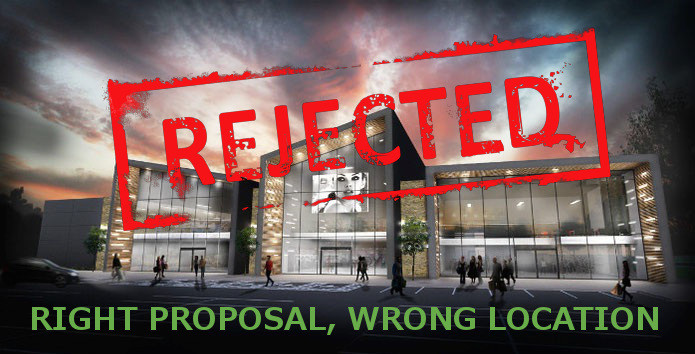 The Committee, spent almost an hour hearing information about the development from the planning officer and points from the committee members.  BicesterTAG and a representative of Bicester Vision, spoke against the proposal.  Speaking for the proposal was a representative of the developer and a member of Kingsmere Residents Association.
Several Councillors spoke out against the proposals including robust rejections of the scheme from Bicester Councillors Richard Mould, Lawrie Stratford and Rose Stratford.  Their reasons included; impact on Town Centre, insufficient car parking, A41 junction congestion, overflow parking into Kingsmere, goes against Cherwell's Local Plan, opposition from local businesses, no firm commitment M&S/Next would actually sign tenancy agreements, peak traffic congestion, loss of higher salaried employment, inappropriate site, and proximity to school to name but a few. 
It is important to note that the Councillors were not against such retailers coming to Bicester but just the location.  All said they would like to see the stores come to Bicester but not in that precise location (see below for the Council's full reasons).

Those who spoke for approving the development were Councillors Lynn Pratt and David Hughes.  Mrs Pratt's reasons included Bicester being the fastest growing town and Bicester residents expecting infrastructure to keep pace with expansion.  Mr Hughes noted that employees would have to walk to work to save parking spaces, he had received many letters from residents in favour and driving to Oxford instead of to a store in Bicester was less 'eco-friendly'.
WHY ARE THE COUNCIL AGAINST THE PROPOSAL?
Cherwell's Planning Officer has TWICE recommended this proposal to be refused.  After the first occasion, the Committee allowed the Developer to speak with the Planning Officer regarding the objections.  The Officer, still recommended refusal.  The Officer's reasons in summary, are;

Did not demonstrate that the development would potentially significant adverse impact upon the vitality and viability of Bicester Town centre
The development proposed, by virtue of its form, scale and height, together with substandard car parking and landscaping provision, would be out of scale and character with the adjacent residential development
In the absence of a satisfactory planning obligation, the Local Planning authority is not convinced that the necessary infrastructure directly required as a result of this scheme will be delivered
A full copy is available here

Councillors rejected the proposal on the following grounds:
The reasons the Planning Officer gave
They also added traffic congestion.  We are awaiting a full copy of the wording
The show of hands was 9 for refusing the development, 3 for approval and 2 abstentions (tbc).

WHY IS BICESTERTAG AGAINST the scheme?
Our submission was prepared by Bicester resident Mr Gerry Harvey, a Fellow of Institute of Highway Engineers, a past member of the Chartered Institute of Highways and Transportation and someone with over 30 years experience in planning and traffic assessment.  It is fair to say that Gerry knows his stuff!
Gerry's analysis of the Traffic Assessment which accompanied the Planning Application was;
Insufficient parking
Risk of overflow parking into Kingsmere's residential streets
Proximity to school
That the developers submission had used figures akin to a office block, not a retail park
No account was made for Pingle Drive traffic (i.e. entrance to Bicester Village)
No other infrastructure was planned
Two other independently commissioned traffic assessments came to almost identical conclusions.  Oddly enough they were commissioned by Value Retail (Bicester Village) who ironically are worried about traffic congestion to their own site.  Shocking!  Many local businesses including Sainsburys, Bicester Office Park and Bicester Sports Association also objected.

On top of these issues, we must also remember that also at the A41 junction;
Value Retail (Bicester Village) have been granted a 23% increase of their site
The new, relocated Tesco will be twice the size of the current store
Bicester Office Park, a new office park of 500,000sq ft employing up to 3,000 people

To help illustrate where all this CURRENTLY approved development is going to be located we have produced this map showing the approximate sites of each of the plans including the site of the proposed Bicester Gateway and the Kingsmere development.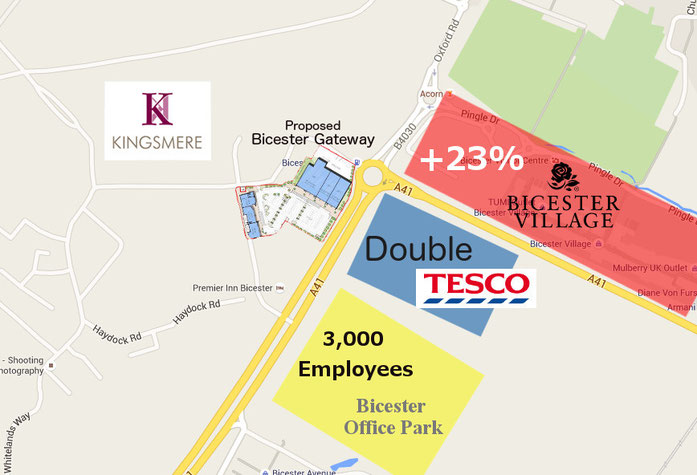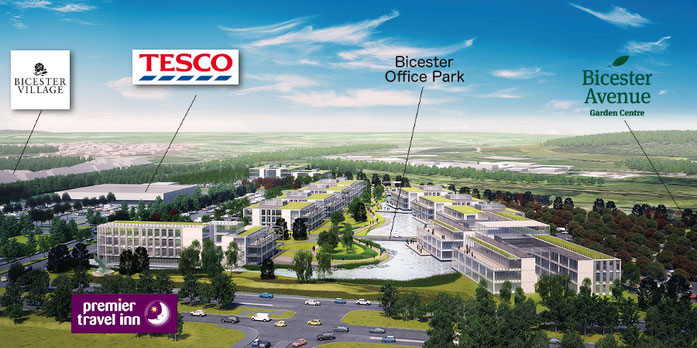 In our view, this is a perfect store.  We expect traffic congestion to worsen already from what is known throughout the county to be a difficult location.  Add in 'Bicester Gateway' with up to 9,000 vehicle movements per day and this town would be heading for a perfect storm!  Our conclusion is:
RIGHT DEVELOPMENT, WRONG LOCATION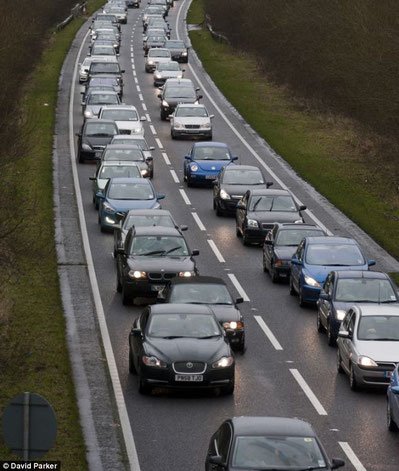 We all remember how bad the A41 can be when Bicester Village is busy.   This image (© David Parker/Daily Mail) shows how bad the road was on Black Friday last year.
If another large retail development such as Bicester Gateway, with up to 9,000 vehicle movements predicted per day, would this scene occur every weekend?
Reaching the development by car (or the new Tesco store) would be nigh on impossible.  Anyone wishing to leave Bicester would have to seek alternate routes via M40 J10 or via villages such as Chesterton or Ambrosden.
what next?
Bicester still needs more retail facilities that are appropriate to the local community, unlike Bicester Village.  The brands of Marks and Spencer and Next would be very welcome and popular decisions throughout town as our survey back in March clearly demonstrated.
The 'Bicester Gateway' proposal was extremely popular amongst Kingsmere residents.  Those who have lived in Bicester slightly longer and see the chaos and congestion Bicester Village cause less so.  However we are all united in wanting more and better services.
Other sites are available, there is an opportunity to build near to the airfield or NWBicester on sites already earmarked for future warehousing; the now vacant Sheep Street Tesco store could be re-built and integrated into the Pioneer Square format more deeply with expanded rooftop parking.   Another option already proposed involves redeveloping Claremont Car Park in a similar style to Pioneer Square.