Southern Periphery Road - Public Consultation
Oxfordshire County Council will be asking for views from the public on two route options for a South East Perimeter Road in Bicester.  The consultation will take place between 12 and 14th November 2015.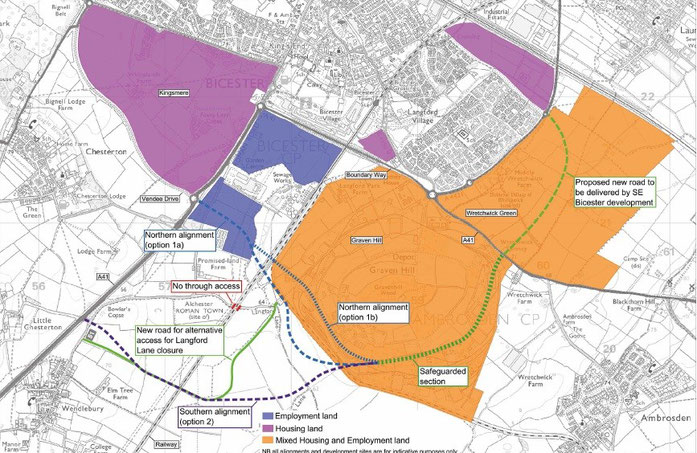 WHERE IS THE CONSULTATION
Thursday 12th:  2.30pm and 8pm. The Lion, Wendlebury Rd, Wendlebury, OX25 2PW
Friday 13th:  12 noon and 7pm. Littlebury Hotel, Kings End, Bicester, OX26 6DR
Saturday 14th: 10am – 4pm.  John Paul II Centre, Webb Court, Causeway, Bicester OX26 6AW
why are your views important?
The people of Bicester and the surrounding villages have not been asked for their consent for their town to grow by over 13,000 new homes for what are largely political reasons (David Cameron's own patch etc.) and not for the benefit of the existing townspeople.  In contrast over the border our neighbours in Buckingham held a public referendum regarding development proposals. 
So there are two key reasons why you do need to give your view on this matter;

Firstly this development is less about alleviating Bicester's worsening traffic situation with air pollution problems that even Cherwell District Council are monitoring and more about opening up green space for developers.   Oxfordshire County Council's own website even says this: "The Perimeter Road will support employment and housing growth in the town.".
Secondly, neither Oxfordshire County Council nor Cherwell District Council can be trusted to successfully manage infrastructure projects.  Look at the London Road debacle, Oxfordshire County Council have been part of the project since 1995 and still have no solution for it.  Cherwell District Council designated Bicester an 'eco-town' but still can't build a single cycle path and now propose to make Howes Lane a 30mph, six set of traffic lights 'urban boulevard' because that's the way the developers want it. 

So you must speak up.  Make your voice and your opinions heard.

FIND OUT MORE
Find out more about the plans and options on Oxfordshire County Council's public consultations website: