speed bumps on middleton stoney road
Speed bumps originally approved in June 2014 by Oxfordshire County Council and against Bicester Town Councillors wishes on Middleton Stoney Road, Bicester have been installed.  Our own Oxfordshire County Councillors (Sibley, Stratford and Waine) voted against the proposals but were out voted.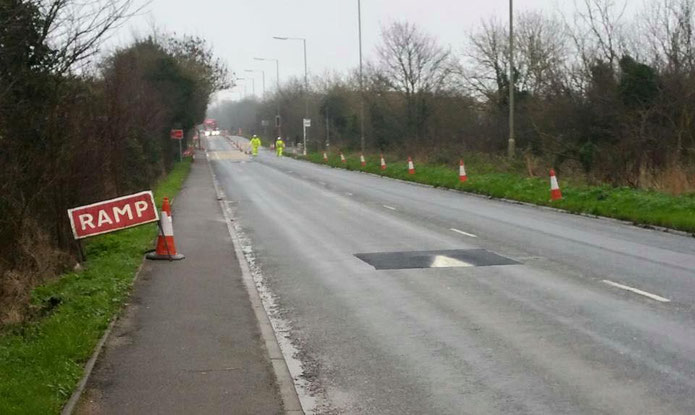 Councillor Nicolas Mawer, a Bicester Town and Cherwell District Councillor told us "I am totally opposed to the use of speed humps on the Middleton Stoney Road. I accept that now both sides of the road are built up, that there needs to be some kind of traffic calming measure, but I would much have preferred to have seen a road realignment such as in Aynho village. One of the unforseen side effects of the speed bumps is that drivers are now avoiding the MSR and using Queens Avenue which is already suffering from air quality issues."
Speaking in support of the traffic calming measures, Kingsmere Residents Association (KRA) spokesperson Fiona Chalk said "The KRA welcomes the safety measures finally being put in place on the MSR. The association provided feedback on plans that were made available early in 2014 by Cherwell District Council and the KRA has expressed their concerns about the safety of the MSR regularly to Bicester Town Councillors. It had been hoped that the traffic calming and pedestrian crossings, that CDC decided were required, would have been in place some time ago, particularly as Kingsmere has grown very quickly in the past years, so pedestrian numbers have increased significantly. It has been obvious that pedestrians trying to cross the road have had great difficulty, particularly in peak periods, and at times have been risking their safety as a result of the high speed that some drivers still felt was appropriate despite the road being 30mph."
Since the speed bumps have been installed we have received a number of complaints from residents principally about their positioning and marking.  We therefore would like to know your opinion of them whether you are a driver or not.
THANK YOU - THE SURVEY HAS NOW CLOSED
Wednesday 13th January: Thank you to all those who participated.  We have received over 130 responses (a sample size should be more than 100 to make a randomised survey a valid observation). 
Overwhelmingly residents of Bicester are against the speed bumps with most sighting the position in the road as being the most serious issue and lack of road markings being another.  Importantly a large percentage (58%) said that they would now be less likely to use Middleton Stoney Road. 
You can download the full report here.  We will of course be providing this information to our councillors and Oxfordshire County Council when we meet them.
Middleton Stoney Road Survey, January 2016
BicesterTAG_MiddletonStoneyRoadReport_Ja
Adobe Acrobat Document
247.7 KB
Or in summary;
138 people took part, of which 94% hold full driving licenses.
96% know the correct speed limit of the road, 30mph.
82% of respondents think that the positioning of the bumps is very inappropriate / inappropriate
75% of respondents think that the whitelines/signage of the bumps is very inappropriate / inappropriate
58% said that they would be very unlikely / unlikely to drive along the road and would avoid.
People are neutral about walking along it.
51% said that they would be very unlikely / unlikely to cycle along the road even though the idea was to improve cycling.
39% / 46% respectively said that zebra crossings / pelican crossings would be appropriate alternative solutions for pedestrian safety.  Footbridges or 20mph speed limits were very unpopular.
As for alternative uses for the budget, the three most popular choices were; road repairs elsewhere, London Road level crossing replacement or digital speed awareness signs.