FIRST TRAIN TO OXFORD WON'T BE UNTIL DECEMBER 2016
At 05:36AM on the morning of 12th December 2016, bleary eyed travellers will be able to catch the first train from Oxford to 'Bicester Villown' (Village or Town depending on your viewpoint) Station since February 2014 when the line was closed.  Since then the line has seen a total upgrade from 19th to 21st Century infrastructure allowing trains to run at 100mph.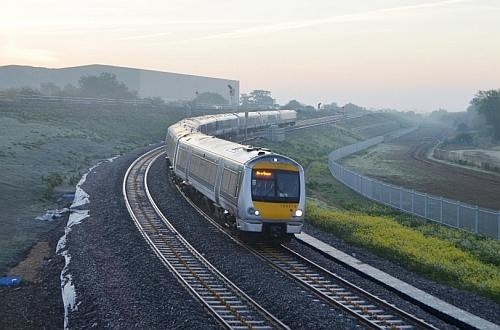 Although the line to Oxford Parkway (Water Eaton Park & Ride) opened on the 25th October 2015, the last section of line to Oxford Station itself was unready.  This has been blamed on bats in the Wolvercote Tunnel; planning delays caused through negotiations between Oxford City Council, Nicola Blackwood MP and residents over noise and vibration concerns and modification works to Oxford Station itself.
Chiltern/Network Rail had hoped that the link would open by spring 2016 but on 20th January, Chiltern announced the new start date of 12th December 2016.
Until then passengers wanting to visit Oxford can use the train service to Oxford Parkway where a rail replacement bus will transport them to Oxford's railway station or any intermediary stop.  No additional ticket purchase is required.  The service is very fast, efficient and provides free-wifi and power sockets making it ideal for commuters.  The station facilities at Bicester Towage (see what we did there) Station are excellent and the staff very friendly and helpful.  Adult return ticket prices to Oxford are £3.00 off-peak and £5.30 peak.  Car parking at the station costs £7 per day.  Visit National Rail for more details.
This final link to Oxford will also form part of the East West Rail project linking Oxford to Milton Keynes and Bedford.  Although development work is still continuing on East West Rail Phase 2, it will not now be completed until beyond 2019 and probably 2022. 
Although this is bad news for the people of Bicester and the surrounding villages in terms of access to wider employment and education opportunities it does give the lamentable Oxfordshire County Council the opportunity to find a replacement solution for the London Road level crossing.  Current Cabinet Member for Environment (including Transport) David Nimmo-Smith appears to currently favour tunneling under Bicester.  If only we had some local councillors who could campaign on this issue.  We do have some but they are the same lot who have been around for years and they're all tired and broken.  Please vote at the next council elections.
---
Bicester - Rails Economic Development & Blight
In December 2015 we drafted this short document for our MP, Victoria Prentis to assist in her discussions with Claire Perry MP (Parliamentary Under-Secretary of State
for Transport). It describes how Bicester is both damaged by and will benefit from the new railway developments.
BicesterRailEconomicDevAndBlight.v1.pdf
Adobe Acrobat Document
1.3 MB