WHY DO WE NEED SO MANY WAREHOUSES?
18th March 2016:  News reaches us that our councillors at Cherwell District Council have approved yet another hairbrain and unwanted development for Bicester on top of the rubbish schemes they have already foised upon us.
At a Planning Committee meeting on Thursday 17th, the committee comprised of councillors, voted to approve 4,900sqm (53,000sq.ft) of warehousing 16m (52ft) at a site they have labelled 'Bicester 11'.  This is the stretch of land off Skimmingdish Lane between the airfield and Wyndham Hall a care home for older people.  Now you're probably thinking "Did I just read that 16m warehouse units right next to a care home?  Surely some mistake?".  Unfortunately your eyes do not.
SO WHY THE NEED?
Why does Bicester need so many warehouses?  It is not like they're being used to store goods for sale in town because so many of our town centre shops are closing.  Well actually, there is no need.  That's right, no companies are clamouring for new warehousing space.  They are being built for financial speculation that they may be needed in the future by the large landing owning companies who own swaithes of land around Bicester (such as Gallaghers and London Metropolitan) who also and this is purely per chance, also sit on Bicester Vision the mainly publicly funded by very private organisation where business people coerce our less morally guided councillors (check the membership lists) into 'working together' which is a modern euphemism for 'oiling the wheels'.
ENOUGH WAREHOUSING ALREADY?
So as many people in Bicester have done so already, are you asking yourself "why do we need more warehousing?".  After all several massive units of the scale this development already exist on Chaucer business park.  Plus the site to be known as 'Akeman Park' already has planning approval for 69,677 sqm (750,000sq.ft) of warehousing.
BETTER alternatives for BICESTER?
Possibly if our councillors were more independent of lobby-shops like Bicester Vision, consulted with us their electorate more and were generally not the sloppy thinking councillors we have today they might think there is a better alternative for Bicester.
For years we have listened to those dried out cretins tell us that "Bicester shouldn't be a dormitory town" yet they authorise plans and vote through with abandon proposals for employment which;
Generate few jobs per square metre/foot,
Provide few skilled jobs for young people
Increases HGV vehicle movements which are already causing air pollution and congestion in our town
Would it be possible to make worse decisions????
Unsurprisingly, we are not the only people to have spotted this.  On 19th March 2016, The Times newspaper ran an article highlighting how the East West Rail, Oxford-Cambridge route could become Britain's 'silicon valley' linking two fo our top universities who have produced many 'spin-off' science and bio-tech companies looking for new offices close to housing for their employees.
Even the Oxford Mail reported the story but without the analysis of the economic benefits the link will bring here.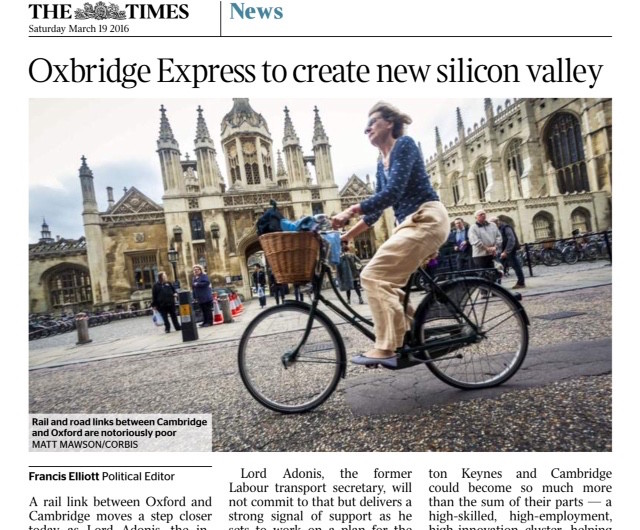 SO WHAT CAN YOU DO?
Bicester already has a new office development capable of employing 3,000 people.  It should open in 2016/17.  We have had 13,000 new homes forced upon us by Cherwell District Council following targets dreamt up by unaccountable and non-elected Local Enterprise Partnerships.  So it's the ideal combination, great place to locate your new high-tech business, create high quality, skilled jobs our school leavers can aspire to an linked to a 100mph rail link in the 'silicon arc'.
But instead: warehouses, warehouses, warehouses, discount shopping malls, a cafe in Garth Park, £250k 'affordable homes', oh and that nice Mr Kevin Clouds from Channel4's Grand Building Designs AND dangerous air pollution.
Something HAS to change.  It starts with you voting for new councillors who will bring fresh thinking!