16Sep15 - We have been asked on several occasions by Bicester Town Council with veiled threats of libel action that we remove this story from our website.  We do not think that the story is libelous because at no point did it ever claim that Councillors misinformed the public.  Also at the first possible opportunity the story was updated and clearly states that councillors were unaware.  Therefore we must, to satisfy our council who seem happy to sue local residents yet do not challenge proposals that could have terrible impact on the Town nor check material bearing their logo that they freely distribute, me must bring this information to your attention and ask you to read the entire story including the updates clearly highlighted in red.

Although we have suspected this for many months now, it was a shock to learn this weekend that London Road level crossing WILL close from 2019.

The map below was recently commission by Cherwell District Council and approved by Bicester Town Council.  It is freely available to members of the public so it is definitely not secret.  Look at the enlargement below for a closer view of London Road level crossing.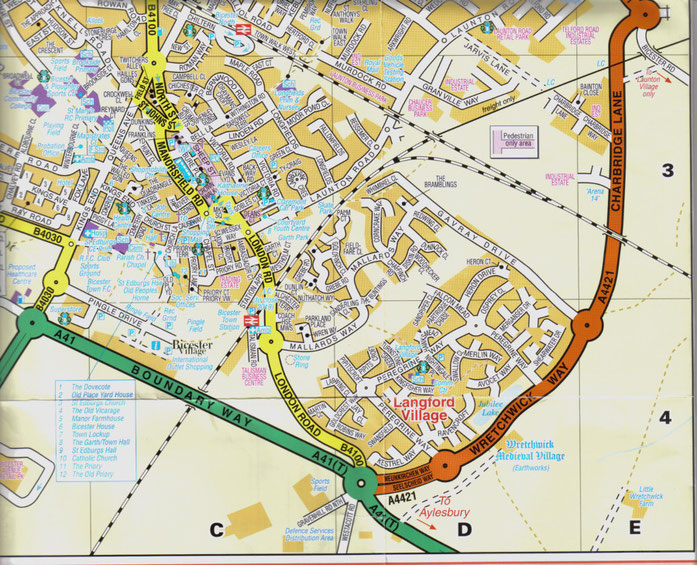 The image below clearly highlights that London Road level crossing will close from 2019 on this official Council approved map.  The only positive point is that Bicester Town Station is clearly denoted as Bicester Town Station, a minor a very consiliatory point given the massive disruption residents will face.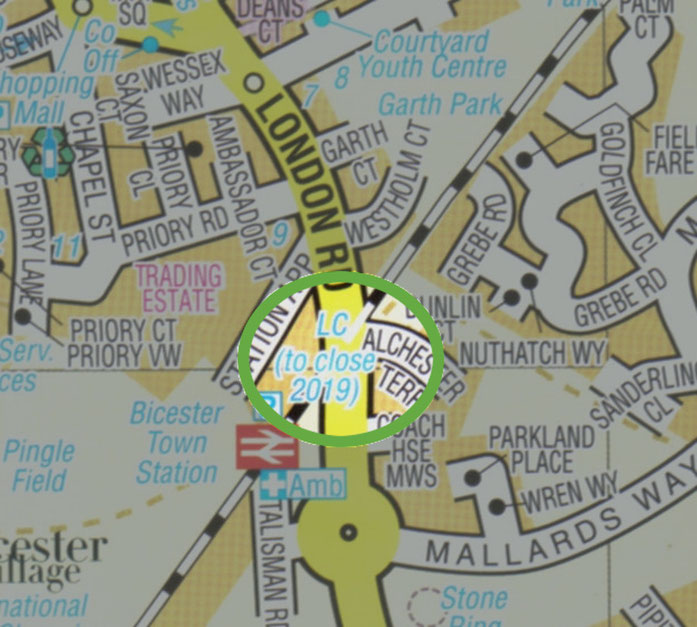 WHAT DOES THIS MEAN FOR BICESTER?
In short disruption;
Bicester divided into a northern and southern 'blocs'
Additional traffic congestion throughout town, particularly Queens Avenue and Launton Road

Parents no longer able to walk their children to school
Disabled people facing arduous and unnecessary detours
Businesses with additional costs and time problems
Heavy Goods Vehicles having no southerly access to the town
Bus timetables being impossible, taxi fares increasing
REMEMBER: There will be no pedestrian access via Bicester Town Station either as the station's footbridge will be only accessible to holders of valid train tickets. 
SO SORRY MUMS WITH PRAMS, WHEELCHAIR USERS, OFFICE WORKERS WHO FANCY A QUICK WALK INTO TOWN TO BUY LUNCH ETC. YOU'RE NOT CONSIDERED IMPORTANT.  NOW SHUT UP AND PAY YOUR COUNCIL TAX SO YOUR COUNCILLORS CAN HAVE A 19% PAY INCREASE.  Please note: two of Bicester's three County Councillors nobly agreed to refuse the increase, details.

HAVE OUR COUNCILLORS BEEN LYING TO US?
In February 2015, BicesterTAG met with Cllrs Sibley, Stratford and Waine, Bicester's Oxfordshire County Councillors to discuss this matter.  We were told that London Road would not close.  We have asked our Bicester Town Councillors and none said that the crossing would close. 
Yet now we discover that Bicester Town Council and Cherwell District Council have approved this new map (despite it containing many other mistakes and inconsistencies).  So go figure.
UPDATE:  7th September: From speaking with several Councillors, it appears that they have not seen this map and of those who choose to reply to our email (Cllrs: Lynn Pratt, Jim French, Dan Sames, Melanie Magee and Nick Cotter, only 5 of 12) all have clearly stated that they were unaware of this map or any decision regarding London Road.  We have not received any communications from our Oxfordshire County Councillors Sibley, Stratford and Waine despite emailing them each twice.   We have also received an email from BTC's Chief Officer saying that the map is a mistake by the map maker and they do not know why the mistake was included.  More information on this later.

SO WHAT CAN YOU DO?
Email/write/call your councillors today.  Voice your opinion directly to them.  It is only by us all acting together can we share our outrage at the deplorable and undemocratic way our town is being managed.
HINT:  Most of the Bicester Town Councillors also sit on the other two councils, so despite Bicester Town Council having only slightly more power than a worn out AA battery because it is in effect a Parish Council, by contacting them you are saving yourself work.
AND REMEMBER TO JOIN OUR MAILING LIST.  It is only by acting as one co-ordinated body can we make our voices heard.  By joining our email list, we can keep you in touch with the latest news and should we organise a demonstration, we can keep you informed.  We promise strongly, not to abuse your trust and will only send you emails on the issues we campaign on and never disclose your details to any third party.