BICESTERTAG MEETS BICESTER VILLAGE
Today (12th October), Bicester Traffic Action Group met with Value Retail (parent company of Bicester Village) representatives Miranda Markham (Community Relations Manager) and Jonathan Ellison (Senior Operations and Services Manager).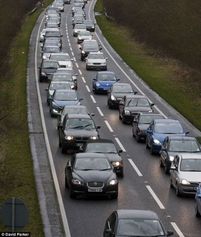 The meeting was organized to discuss several traffic related issues and specifically to understand Bicester Village's preparation for 'Black Friday 2015' (27th November) and Christmas 2015.
We are very pleased to report that Value Retail do acutely appreciate the impact they have had on our town and how it has damaged their reputation within the local community.  Therefore avoiding a re-occurrence of the town-wide gridlock witnessed in 2014 is critical to them.  Value Retail's preparations do genuinely appear thorough and well thought through.  Of all the questions we asked, none were avoided and the answers they offered appear to be sensible.
BicesterTAG will remain in contact with Miranda and Jon throughout the period and report to them any problems.  It is therefore of vital importance that any issues you see should be reported either to us or to Value Retail directly as soon as possible so that they can address them.
Below is a short summary of each of the issues we discussed:
New Park & Ride Car Park (A41/Vendee Drive)
The 580 space car park will open on 14th November at the junction of the A41 and Vendee Drive.  This allows two weekends prior to 'Black Friday' to iron out any operational issues.  The plan is that during the week, 'transport hub' users (people commuting to Oxford) will be in the majority and at weekends Bicester Village shoppers will be in the majority. 

Bicester Heritage Temporary Park & Ride Car Park
We have received several reports of over officious traffic marshalling at the entrance/exit on the A4421 opposite Thompson Drive.  This included 50mph main road traffic, with priority, being stopped unnecessarily to allow one/two cars to exit the car park.  Jon has promised to investigate and hopes it will not re-occur.
Traffic Management Company
The current traffic management company with limited police powers will be retained for the foreseeable future.  Yellow cones will continue to be placed on strategic roads most susceptible to illegal parking during peak periods.  In residential areas, cones may be swapped for signage to improve the aesthetics for residents.
Resident's Access to Tesco
A common complaint has been residents being unable to legitimately access Tesco.  Value Retail do assure us that this is a problem they are concentrating on and should not be re-occuring. 
We will ask more about the redesign of the Bicester Village entrance once Tesco has moved and particularly timings and co-ordination with Oxfordshire County Council's 'Hamburger Roundabout' at the A41 at our next meeting.

Thames Valley Police
Value Retail will be paying Thames Valley Police to have Police Officers on site on 27th November.  That means that the police presence will be in addition to Bicester's normal establishment and thus not detracting.
However if there are scenes of mass illegal parking as witnessed last year, we need to see the Police proactively ticketing vehicles and towing.

Traffic Integration
During peak periods, Jon has 1-2 hourly conference calls with Thames Valley Police, Oxfordshire County Council and Highways England to monitor wider traffic issues.  Value Retail have also created a 'pack' of approved messages which can be displayed to prevent [hopefully] excessive visitor numbers even reaching Junction 9 of the M40.

USE OF STATION APPROACH/LONDON ROAD AS AN EXIT
Jon did admit that Station Approach and London Road had been used recently but he assured us that was in exceptional circumstances due to other factors causing congestion elsewhere.
New Railway line to London
Currently 300,000 people travel to Bicester Village by rail each year.  However over recent years the number has remained flat.  Value Retail hope that the new station will increase this number although disappointingly they have no predictions of numbers.  There will be information on their website to lure visitors from their cars. 
If numbers do not increase, will we be able to convince Network Rail/ORR to revert the station's name back to Bicester Town?
23% Expansion
More of a future issue than a 2015 one.  You may recall that Cherwell District Council agreed approximately two years ago to Bicester Village expanding by approximately 23% (by retail space) when they expand to occupy the current Tesco site.  We asked how the additional traffic/customers this will attract would be accommodated.  Miranda told us that their predictions are that overall visitor numbers (footfall) will not increase significantly (~2%) over current numbers and their business model is to expand the width (more of the same type of stores) of their offering and increasing spending per visitor.

Call us old-fashioned but we are skeptical of this prediction.

AND FINALLY
In summary, we are satisfied that Value Retail do recognize the impact they can have upon Bicester and are genuinely concerned about it.  They have committed to us that they are as best prepared as they have ever been and considered a wide range of contingencies.  Importantly they are more willing to listen to the residents and act upon issues that may arise immediately than we have experienced previously.

We are satisfied that their preparations are sensible and realistic.  Based on our experiences since Black Friday 2014, their ability to manage large peaks has improved.  Value Retail are also not anticipating a Black Friday peak of the same magnitude as last year for several reasons they did outline to us.

So that's it.  They've done their preparations, they've battened down the hatches and now all we can do is wait for the storm [not] to arrive.  If they do not get it right this year they will be in trouble with the local community and businesses however we hope that through a combination of planning and other measures the issues will not re-occur.

Nearer the time we will advise you how to report issues related to Bicester Village traffic to us or directly to Value Retail. 
If you have any questions, please post them here as a comment.  Value Retail do monitor social media.