BLACK FRIDAY 2015
Black Friday 2014 burned an impression into the memory of every resident who experienced the chaos and gridlock caused by Bicester Village.  Traffic came to a standstill, businesses were forced to close early, people were late for work, people couldn't get home and some of us even had our front gardens used as car parks.  

This year the management of Bicester Village tell us that they are doing everything possible to avoid a re-occurence by not having a Black Friday.

Yet with opening times from 7am to midnight, openingly advertising for staff for Black Friday and covering our town once more with signs to tell their customers how to behave reasonably many of the folk remain sceptical.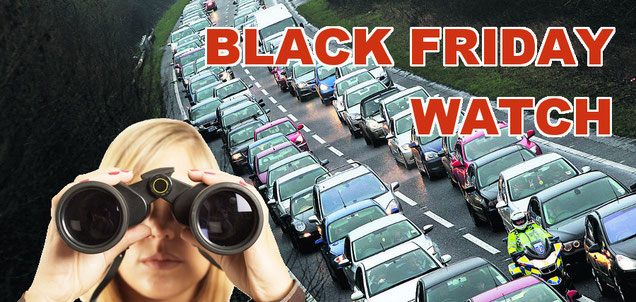 THIS IS WHERE YOU CAN GET INVOLVED
 If you witness any traffic congestion or anti-social behaviour on Friday 27th November related to Black Friday at Bicester Village, please photograph or video it and upload direct to us via this link:

Alternatively, if you would prefer to email them to us, please use this email address: <removed>.  For legal purposes, we must inform you that by submitting any photographs and/or videos you hereby grant permission for Bicester Traffic Action Group or any other body to reproduce the item(s), in any format, without recognition or reward. 

Whether it be traffic gridlock, illegal parking, overly judicious behaviour by Bicester Village's employees or traffic management company or simply behaviour which makes our neighbour appear anti-social to the rest of the town and villages please let us know.


IMPORTANT:  Please note we ask you to act responsibly at all times, not endanger your own or others safety and respect other's personal privacy.

PERSONAL EXPERIENCES
We are also interested in your personal stories too.  Were you late for work?  Did it affect your children getting home from school?  Was your business impacted?  Has your property been damaged?  Please contact us as the media organisations would also be interested in how Black Friday has affected individuals lives.
If you have a personal experience you would like to share with the media, please email us and we will put you in contact with the relevant journalists.  If you prefer to remain anonymous, please be sure to clearly highlight this.

PHOTO GALLERY
Thank you to those of you have already uploaded photos.  Here are a selection.