COUNCIL PROTECTS SPORTS GROUND
Councillor Dan Sames has informed us that Bicester Town Council (BTC) have successfully applied to Cherwell District Council (CDC) to have the Bicester Sports Association grounds at Oxford Road, Bicester listed as an 'Asset of Community Value'.  Councillor Sames has very kindly shared the letter of confirmation with us.  Please click on each image to read in detail.
WHAT DOES THIS MEAN?
Dan told us "In short it means that it is slightly more difficult for the current owners of a site to sell it.  The sellers have to notify the council that they wish to sell the land then the community have six weeks to notify they want to put in a bid.  If a group do come forward then they have six months to put in a bid (at market value).  However the sellers don't have to accept it."
Wikipedia (I know,) describes it as (note the last point highlighted in bold);
Removal of permitted development rights for change of use and demolition of public houses: owners seeking to change a pub's planning use class or to demolish it must allow its users (for example, a pub's regular drinkers) to comment;
Material planning consideration: ACV status is a material consideration in a planning application and can be used by the Planning Inspectorate as a factor in refusing planning permission for change of use or demolition;
Community right to bid: this allows an ACV to be purchased by a group representing its users or the local community;
Compulsory purchase rights: an ACV-registered building can be compulsorily purchased by the local authority or council "if the asset is under threat of long-term loss to the community".
WHAT IS ST EDBURGS WALK?
St Edburgs Walk (www.stedburgswalk.co.uk) is a proposal for a mixed shopping and residential development that would encompass the current Bicester Sports Association and the former St Edburgs School.  The scheme is proposed by two companies 'U+I' PLC (www.uandiplc.com) who are a publicly traded property developer and Adalta Real (www.adaltareal.com) a Banbury based company.  The graphic below shows the scale of the site and how it will integrate into the existing townscape.  You will notice that it abuts
This proposal is unconnected to Value Retail, and it's Bermuda and Swiss registered subsidiaries that own Bicester Village (source)*.  However it seems that the developers wish to leverage the proximity to Bicester's number one remnant outlet to lure their customers into this new site with offers of an anchor store, smaller retail, fine and casual dining and weirdly a bicycle repair shop or a trip to a 'landscape roof activities' (we have no idea either...).  As you can imagine, Bicester Village aren't too happy about having their walking profit centres, err I mean customers wander into places where they might have their wallets and purses sucked dried and they don't get a cut; so they are against the proposal too.
* Why a Bicester based outlet mall needs to be registered in an offshore tax haven is a mystery to us.  Interestingly Private Eye's website says "Most are held in this way for tax avoidance and often to conceal dubious wealth".  Tax avoidance, whilst not illegal deprives this country of investment in public services such as healthcare, education, welfare, emergency services, public transport, armed forces, grass cutting etc.  #JustSaying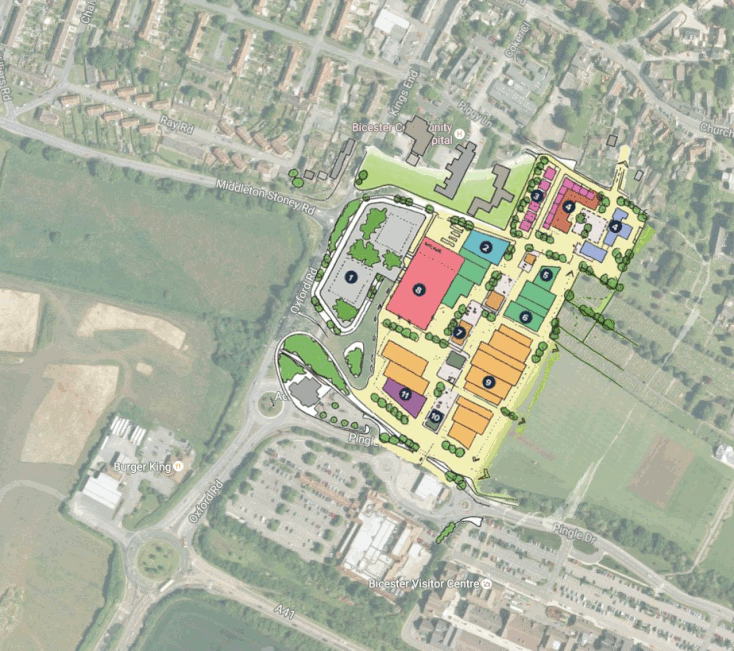 WHAT DO BICESTERTAG SAY?
At last our Council and Councillors are acting to manage our town's growth properly and correctly.  We have been promised many things such as Garden City, Healthy Town, cycle-paths like Holland but what have we received?  13,000 new homes, a half empty shopping centre and streets exceeding safe air pollution levels.
Across Bicester, many others have raised questions regarding the financial proberty of Bicester Sports Association and a cursory review of several Facebook groups will open ones eyes to legitimate questions that have been raised but not properly answered.  However as traffic and transport is our 'bag' we shall leave such scurrilous accusations to others.
BicesterTAG think that the Oxford Road site is the least appropriate place in Bicester to build a retail park.  The area is already heavily congested most weekends by 'bargain' hunters flocking to Bicester Village and although the new park and ride facility exists, at peak times it is almost gridlock which will not be radically improved by the new 'hamburger' roundabout. 
Then there is the Air Quality Management Area of Kings End/Queens Avenue.  Cherwell District Council's own consultant report said that this was caused by the slow moving, stop start nature of the traffic.  This is a serious problem which has a long term negative effect on health particularly the young and old killing up to 29,000 people in the UK each year.  Yet Cherwell District Council fails to act and ignores the consultants recommendations it paid for with your council tax. 
Adding in a new retail attraction is only going to exacerbate the existing problems.  It is possibly the world's second biggest 'no brainer'.   So we say:
WELL DONE BICESTER TOWN COUNCIL
But saying 'NO' to this development and 'NO' to that development (but 'YES' to other certain others registered in off-shore tax havens) isn't the answer.  Bicester is the fastest growing town in Oxfordshire.  If all these 13,000 new homes are actually constructed our population will easily exceed 50,000 people (2011 Census: 32,642). 
This maybe the 21st Century with wireless devices able to vend everything and anything but people still like the convenience and pleasure of walking into a real store.  Our councils need to address this issue, Bicester needs an enhanced offering which we highlighted with our own research back in March 2015. 
Pioneer Square still has many large units vacant for over three years.  If they had a core high street brand it would enhance the town centre as a whole.  Cherwell District Council have issues with this because such key stores want financial incentives such as three years free rent.  Our council sees this as an unfair advantage and wasting tax payers money.  Yet this must be weighted with the boost all our town centre shops would see from better footfall versus the waste of taxpayers capital tied up in empty buildings.
And if the town centre is still not the right location for what Bicester needs, then we have several sites that have been allocated for speculative warehousing which could easily be re-designated to retail.  Not only would the switch to retail mean fewer major pollution causing HGV vehicle movements than compared to warehousing but it would also provide much more employment per square metre. 
There are answers out there, we don't have to ruin our town, test our patience or damage our health to achieve what we want.  We just need our councils to consider what is available and guide developers to make it reality.
PLEASE LEAVE A COMMENT
Please note, comments are moderated to prevent spam and may therefore not appear immediately.  Comments that are abusive or use inappropriate language will be deleted.