4th MAY - IT'S LOCAL ELECTIONS DAY!
If you're a Jedi Knight (and seriously who is?) then you will know that today is 'Star Wars Day' but for us mere mortals of North Oxfordshire it is simply LOCAL ELECTION day.
Now the kind of problems Bicester and surrounding villages face such as traffic congestion, expansion without supporting infrastructure, closure of a key level crossing and illegal and dangerous air pollution might not be the kind of special evil that Darth Vader and his Empire may specialise in.  I bet Lord Vader is probably kicking himself that he didn't think of such dastardly schemes to thwart the Rebellion Alliance.
Enough of the Star Wars references
Stars Wars' problems are fictional and are in a far, far distant part of the galaxy but here in Bicester, Ambrosden, Blackthorn, Arncott, Launton, Caversfield, Stratton Audley, Bucknell, Chesterton and Wendlebury we are facing REAL and LOCAL issues.
TODAY MAKE YOUR VOICE HEARD
So the 4th May is your chance to make YOUR voice heard.  We all know the problems of congestion, lack of infrastructure, air pollution, over development, promised and not delivered cycle infrastructure, lack of elderly services, young peoples services etc. etc. etc.  We have talked and campaigned about them extensively.
PLEASE EXERCISE YOUR DEMOCRATIC RIGHT AND VOTE, JUST VOTE
We implore you today to take a few moments of your busy day to vote.  Whether it is just to pop down to your local polling station and vote the traditional way OR to complete your postal vote and drop it off at your polling station.  Just make the difference.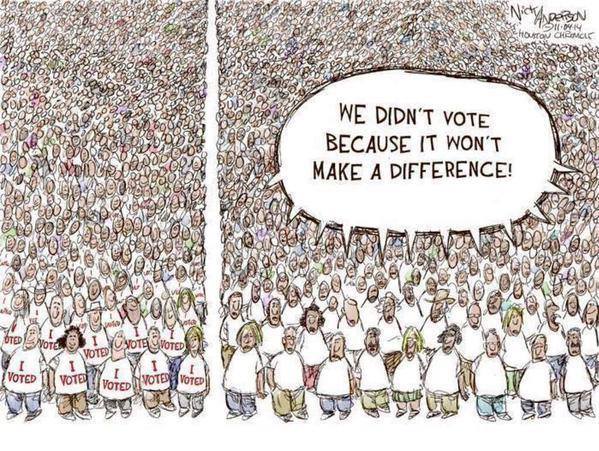 bicester (& district) needs better councillors
The problems that our area faces are LOCAL problems.  They are NOT national issues, they are not London issues, they are not southern issues, they are not even Oxford issues.  They are LOCAL issues and they are very REAL.  So we are going to ask you to do something very unusual for the people of Britain and ask you not to vote on party lines but on personality lines. 
As our town and villages face a period of unprecedented growth we NEED councillors who actually DO THEIR JOB and who get involved in sorting out problems.  Councillors who are active, articulate and persuasive.  We do not need people who simply ride the gravy train in exchange for allowances and expenses and a cushy role for keeping their mouth closed and towing the party line.
We do freely admit that amongst a generally F- flock of councillors, there are one or two notable exceptions.  Councillors who do engage with their communities, do raise issues and are genuinely passionate about their community.  Unfortunately in Bicester, they are the exception.  If such a person is your councillor then; firstly you are in a minority within Bicester and secondly they probably enjoy your total support anyway.  We hope they are re-elected to.  Feel free to ignore the rest of this article. 
it is about local issues, not national parties
Our current councillors largely represent one party in particular.  They may be very nice individuals but as they have proven over numerous years, they are NOT EFFECTIVE at speaking for Bicester and district.  BicesterTAG is not and will never be aligned to a political party however at this election and this election alone we will ask you to vote for anyone EXCEPT existing councillors that supposedly serve Bicester and district.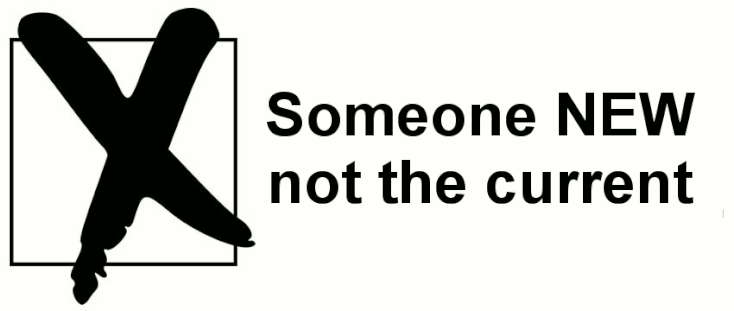 BUT WHO IS MY CURRENT COUNCILLOR?
Unsure of who your current councillors are?  Find out here:
but i support a party not a candidate?
We understand and respect your decision, so if you are unable to vote for any other political party we humbly request that at this election (4th May) and this election alone you do not vote.  However we would say that this election is about LOCAL issues.  It is not about national issues for which there will be a general election on Thursday, 8th June.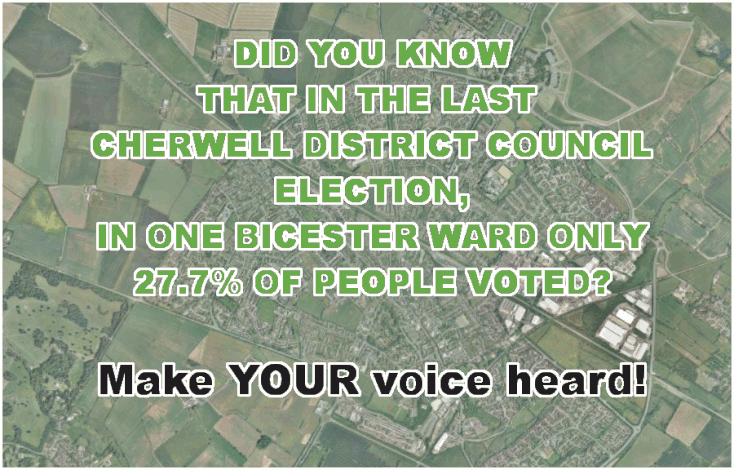 i like the alternative candidate but not their party!
You might say that even though another candidate is a fine upstanding citizen of Bicester and district, you could never vote for them because of their party's leader.  Let us remind ourselves that this is NOT the general election.  It is about LOCAL issues and whichever party wins in your ward, will not be walking into Downing Street on Friday.
So please, please do not vote for the candidate's party but their individual determination and willingness to stand up and represent you, your family and your neighbours needs in Bicester and Oxfordshire.
Or to put it another way, say these LOCAL elections were won by candidates all from the Monster Raving Loony Party.  Could they, even with their 'colourful' and 'interesting' policies oversee the mess of; over-development, illegal air pollution, removal of green belt, lack of infrastructure or traffic congestion?  No, but somehow our current councillors have!  So how dangerous is it to vote differently in just ONE election?
This demonstrates just how POOR our current councillors have been in failing to act as civic leaders for our community.  Please do not give them another opportunity to reign over missed opportunities and disappointment.
SO TOMORROW, ON STAR WARS DAY, BE A JEDI AND VOTE FOR CANDIDATES WHO WILL PROTECT BICESTER AND OUR VILLAGES FROM DISASTROUS PLANNING DECISIONS THAT ARE CAUSING MAYHEM.

 GIVE THEM THE CHANCE TO SPEAK FOR OUR COMMUNITY AND ALLOW YOUR VOICE AND CONCERNS TO BE HEARD IN A WAY THAT YOUR CURRENT REPRESENTATIVES HAVE FAILED.
AND REMEMBER WHAT LORD VADER MIGHT HAVE SAID IF HE LIVED HERE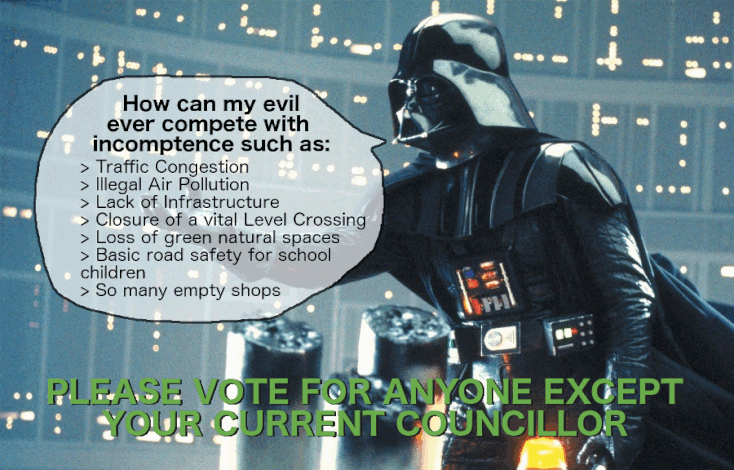 PARTY MANIFESTO INFORMATION
Although we are asking you to engage in a one time, local issues protest vote, you may like to know more information about what each party is proposing in their manifestos. 
Need Not Greed Oxford, a coalition of local groups from all across Oxfordshire of which we are part, approached the leaders of each party running in the Oxfordshire County Council elections and asked them all a series of questions. 
This document lists their answers and is a great source to see where each party actually stands on the issues that concern us, not the issues they want to tell us about.
have your say