THANK YOU FOR VISITING OUR PAGE.  UNFORTUNATELY, CHERWELL DISTRICT COUNCIL HAVE CLOSED THE WINDOW FOR ACCEPTING COMMENTS ON THIS APPLICATION.  YOU MAY STILL LIKE TO JOIN OUR MAILING LIST BY CLICKING HERE.

Bicester Village are applying to expand again.  Despite serious traffic problems that made national news on 'Black Friday' and even before Tesco have moved out, Bicester Village's parent company are applying to bulldoze the site to create more stores yet provide only another 372 car parking spaces.
To keep up to date with future campaigns, please join our mailing list here

---
There are three parts to this process;
You need to create an account on their website.  This is to prove to the planning team that you are genuinely resident in the local area and that the email account that you are giving is yours.
Log back in to the planning website.
File your objection and your reasons.  That is it!  Oh, please share it on your social media.

Our instructions will guide you through the process.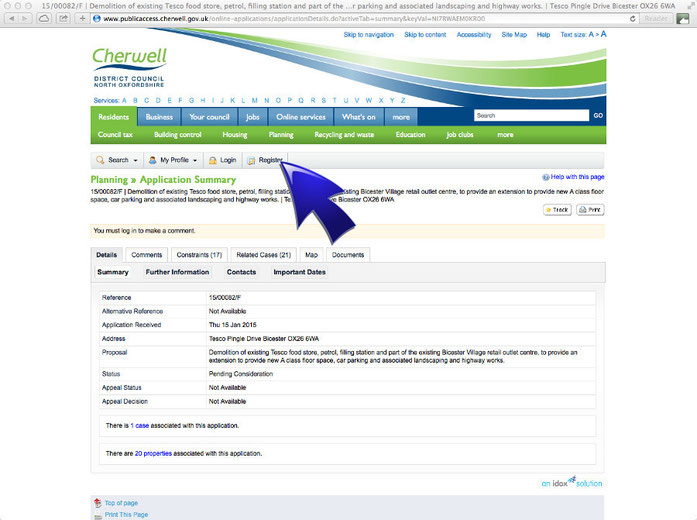 Now complete your personal information.  It is safe to use your own personal information.  Cherwell District Council will use it wisely.  Press 'Next' when you have completed this step.  Your password has to be at least 8 letters/numbers long.  Remember to make a note of it.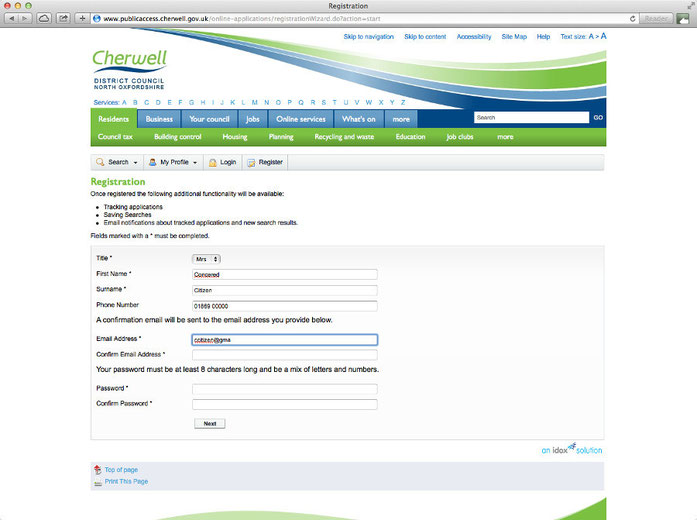 Now enter your postcode.  This is to verify that you are a resident.  Now press 'Next'.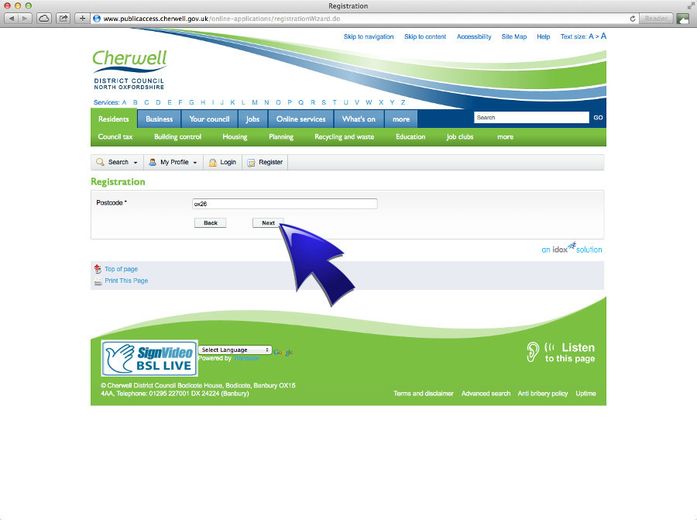 And that is it.  Stage one is complete.  Your screen should look like this.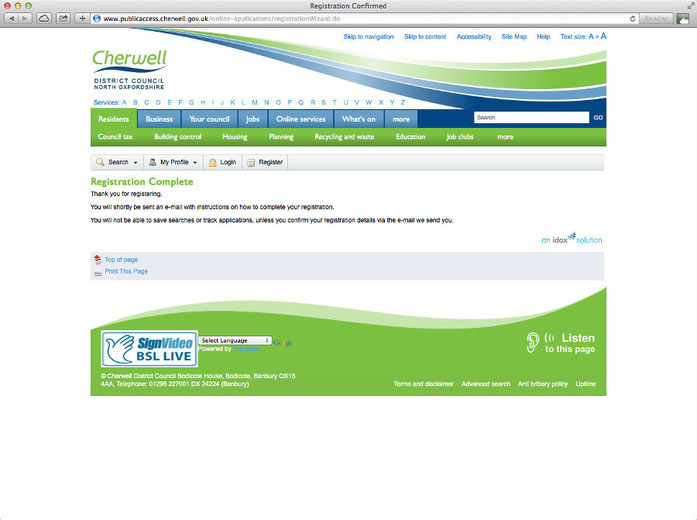 To confirm that you are the owner of the email address you submitted, the council will send an automated email to the address you gave in step 2.  Open your email account and you should have received an email similar to this.  Click on the link contained within it to complete your registration process.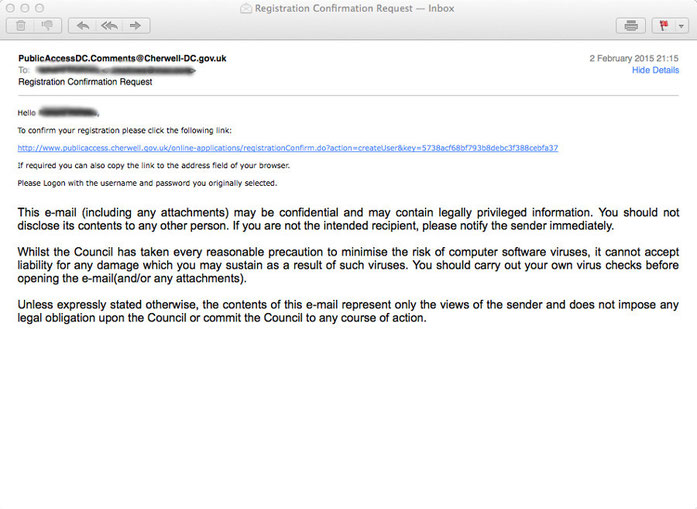 Now you need to return to your web browser (if it has not done so automatically) and log in with the account details that you setup a few moments ago.  Click 'Login' where the blue arrow is.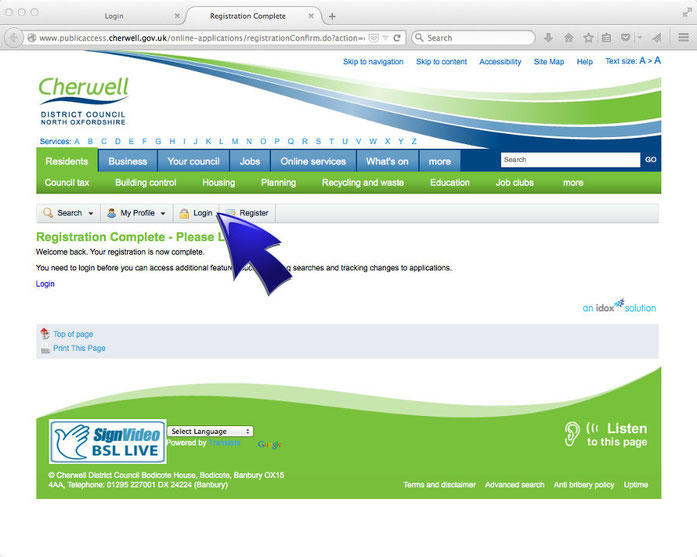 Now enter the login details you created earlier.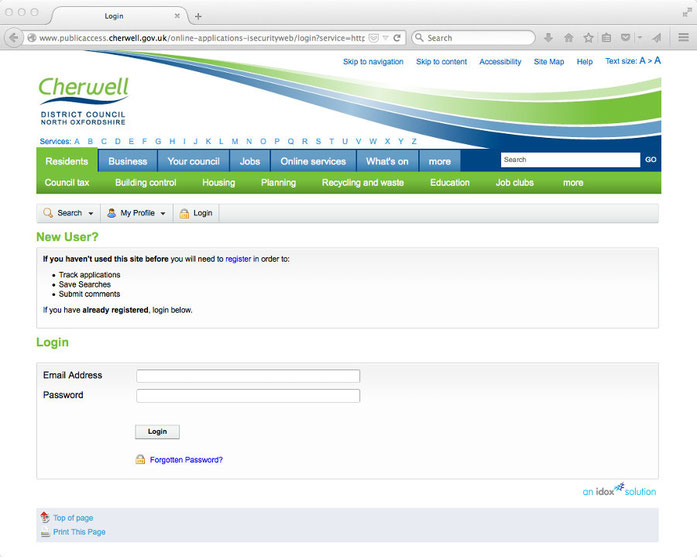 Now you will be logged in but the system does not know which application you wish to comment on.  Rather than searching for it again, simply click this link we started with to get you back to the right application: 
Then click 'Comments' where the blue allow below illustrates.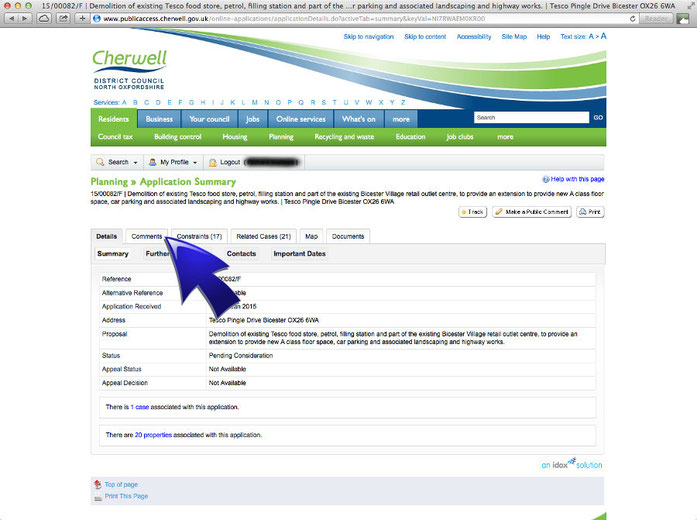 Complete your comments as you see fit.  You can only add a maximum of 6,000 characters to your comments so do not go too detailed however there is not a minimum number.  Describe the issues that are important to you.  How have you been most inconvenienced?  What is your greatest fear if Bicester Village were allowed to expand?  Press 'Submit' when you are finished.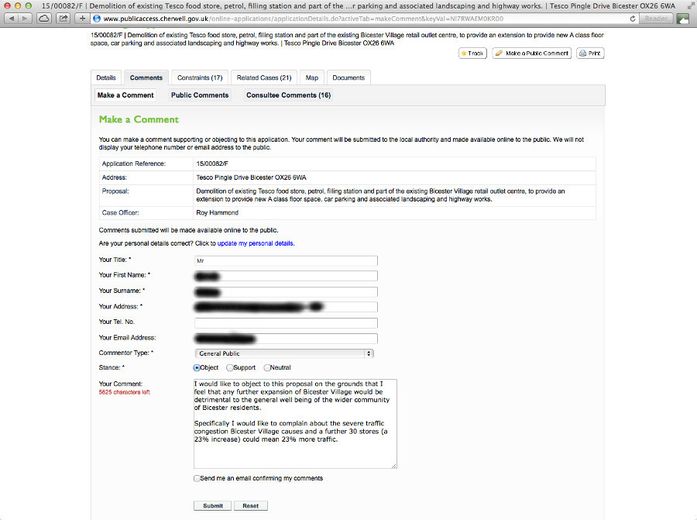 And that is it.  You cannot say that you were not part of the process now.  You have raised your concerns and someone will have to answer them!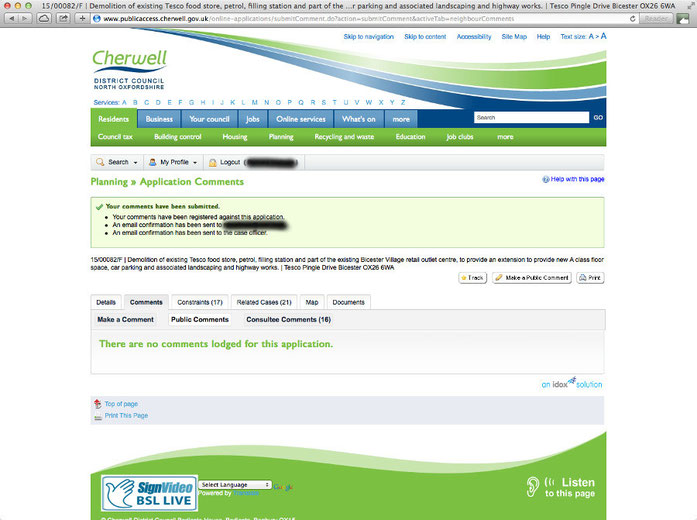 To keep up to date with future campaigns, please join our mailing list here